Are you looking for funny golf gifts for men? I live with the world's best practical joker and a serious golfer too.
He loves adding funny golf gifts to his golf bag. His golf bag is full of silliness and fun!
You might think your guy is serious on the golf course, but believe me, these guys love a good laugh better than anybody.
This page is filled with his favorite golf gag gifts.
Be sure to scroll all the way to the bottom. I think I have found a few gag gifts you have not seen yet.
PS  This photo is me pretending to hit a golf ball in hubby's mouth.   Of course, I did not really try it, but the pose is so much fun for family photo albums.  You might want to try this yourself.  We also did it with him hitting the ball out of my mouth.   The grandchildren especially love those pics!

Funny Sayings Golf Balls are Great Gifts for Golfers
I enjoy designing funny golf balls for my husband on Zazzle. You can use my words or change the words to suit your golfer. Or you can personalize with his name.  It's really easy and fun to do.   Would you want his golf balls to say, "Empty the Trash" or "Bring home a loaf of bread" or some other personal message from you?   You can make it happen on Zazzle.  Just click on one of these golf balls to purchase or to change to your own words.  These are Wilson Ultras, so they are golf balls he will really use.
Check it out! I just designed a https://t.co/xiMM3YvyBa? #golf
— Joan Adams (@scgrandmajj) April 27, 2016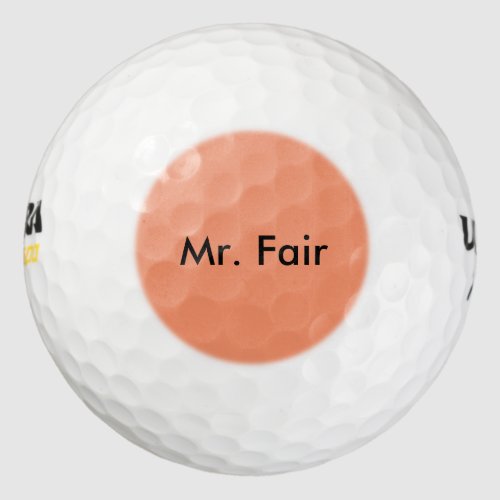 Funny Sayings Golf Balls — Mr. Fair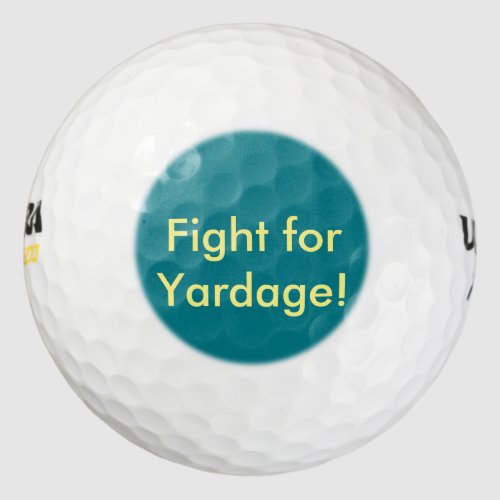 Funny Sayings Golf Balls – Fight for Yardage!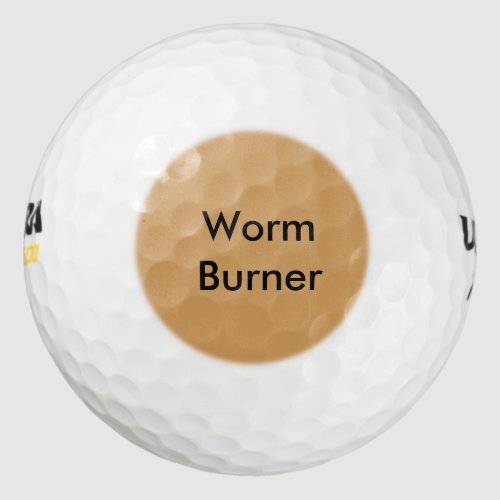 Funny Sayings Golf Balls – Worm Burner

&
Funny Golf Gifts – Gag Gifts
Of course the old standards are always fun – like flat top tees and exploding or farting golf balls.   The unputtable one is hilarious too!   These are all great funny golf gifts for men.   I know my husband keeps this kind of thing in his golf bag all the time.  These are funny golf prizes for family golf, too.  Guys also enjoy having Schwetty Balls Golf Balls in their golf bag.
2-Ply Professional Practice Golf Balls
Farting Golf Ball Jumps Wobbles & Farts
Exploding Golf Ball Four Pack
Unputtaball Golf Ball
Flat Top Golf Tee-hilarious Golf Prank
Awesome Foursome Golf Balls
&
Funny Golf Gifts for Men Around the House
Despite how you feel, he really does not play golf all the time. Sometimes he just wants to tinker around with golf there in the house. If he has a mancave, these funny golf gifts are great in there! If not, well, let him enjoy his sport at home. Laughter is an important part of any family.  And again, any one of these would be funny golf prizes for family reunion events, or family weekend golf.  Notice that some of these are funny golf books — those are always great in the family library, even if the library is the bathroom.
Putter Practice in the Bathroom
Funny Loch Ness Monster Playing Golf
Anything for a Golf Ball
God Loves Golfers Best
501 Excuses for a Bad Golf Shot
How to Line Up Your Fourth Putt
&
Personalized Playing Cards for Guys Who Play Golf
Did you know you can upload your own funny golf photo and put it on a deck of cards? You can do that so easily at Zazzle. Look at these cute ideas for golfers. Did you see the picture of me pretending to hit a golf ball out of hubby's mouth?  I think that one has to be on zazzle playing cards this year.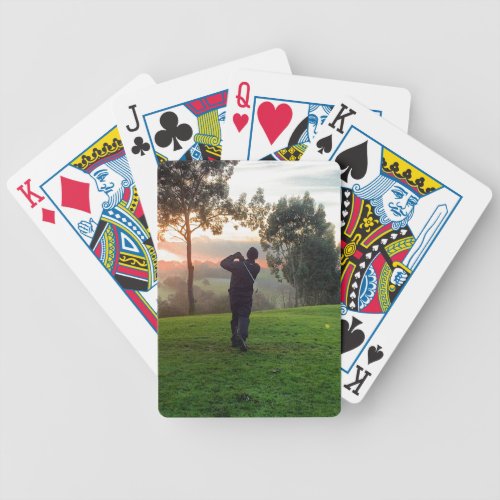 Sunrise Golfer Bicycle Playing Cards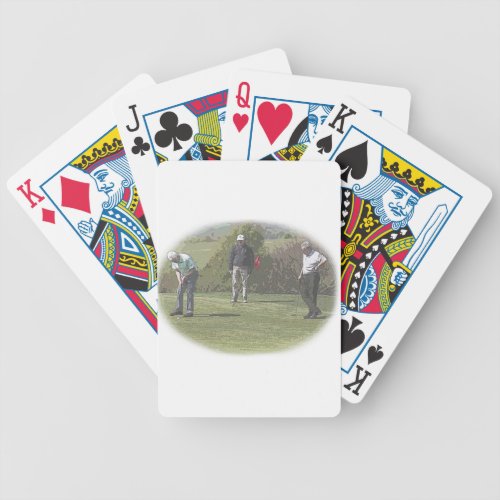 Golfers Playing Cards

&
I will continue to search the internet for the best funny golf gifts for men.
Please stop by often to see the latest additions.