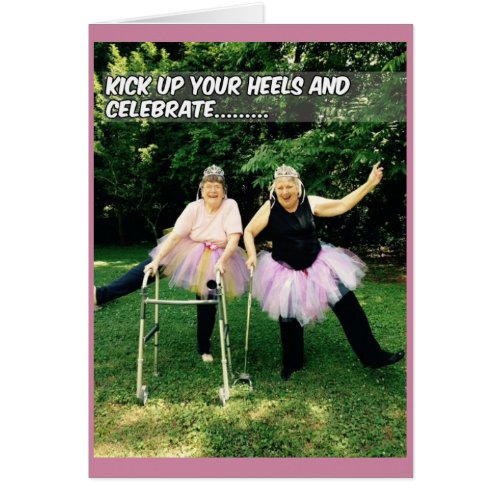 Tutu Birthday Cards for Senior Women

70th birthday celebration ideas range from the elaborate to the most simple.   The most important part of any 70th birthday parties
is that they are fun for everybody — guests and honoree.  Think about your budget first, then decide how many people you will invite and choose a location.   Do a 70th birthday celebration with the same enthusiasm you would celebrate any great milestone.
Note from sister Betty:   It is time to celebrate! Is a 70th birthday celebration coming up soon for you or someone special? Don't miss this opportunity to gather friends and family for a memorable time honoring the 70 year old.
When I approached 70, I began planning to have a party for friends and family who had helped, guided, and loved me over the years. First, the date of my birthday was on a weekend, so I called a local restaurant and had a preliminary detailed discussion, including reserving a private room.
&
& I worked on the wording of the invitations, the guest list, the decorations and all the fun details for the evening. Sadly, it never happened! Soon I discovered that our local University had a home ball game that night, which would present traffic problems for an evening party and accommodation limitations as well. Needless to say, I was so disappointed. Now, I will work toward my 75th!
The Most Fun 70th Birthday Party Invitations
Of course, you already know that your invitations will set the mood for the party.   And with the Zazzle cards and invitations, you can even write your own words if you like.  Make it personal and super fun!  70th birthday party invites set the stage for the big celebration.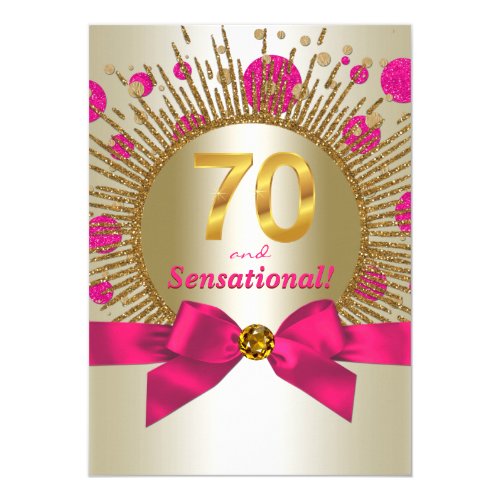 Womans 70th Birthday Party Fuchsia Gold Card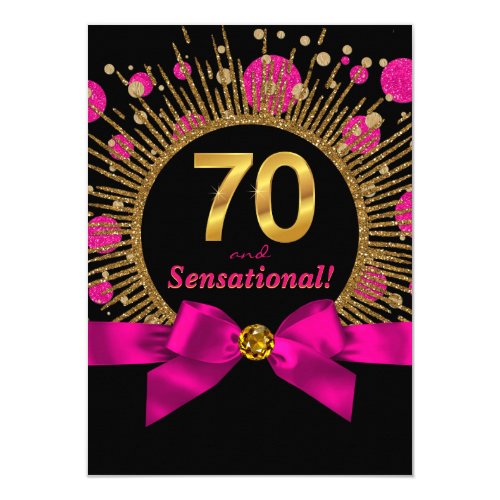 Womans 70th Birthday Party Hot Pink and Gold Card

&
Best 70th Birthday Party Decorations
I think the photo props  in this group of decorations may be the most important decorations of all — your guests will have fun posing with the different props and the photos themselves will be great to include in your thank you notes.
Adult 70th Birthday –  Photo Booth Props
70th Birthday Molded Numeral Cake Candle
Fanci-Fetti 70 Silhouettes
&
&
&There are so many things to think about as you prepare for the wonderful festivity! Your personal budget guides the direction from small, simple, and sensitive to grandiose complete with a great meal and a dance band. Whether a small or large elegant party, a simple square dance with BBQ , or a brunch or luncheon— the honoree's life impacts the decision. Have your specific offer for a celebration set in your mind before you talk with the birthday person and determine if that fits their wishes as well. With their help providing the guest list, you are off and running for a great event!Make it smashing! Explore the 70th birthday ideas shared here and choose a theme appropriate to the person! Are they "bright and sparkly" or more quiet and reserved? Formal or informal? What has their life been about – medicine, fishing, farming, sports, education? Tie in any of the angles you are comfortable working with in little ways. Select invitations that set the tone for the party!
See how you can incorporate some of these 70th birthday ideas on tables and throughout the room. Remember that your party photographs will show later what your effort has been – appreciated and treasured for years to come.
70th Birthday Celebration Ideas for Gifts for Women
I found a great collection of 70th birthday gifts at Granny Geek's Blog !   You might think about gifts she would especially appreciate if she has one of those aggravating senior conditions so many of us struggle with.  As seniors, tho, we do have the right to jump from serious to silly in a quick minute.  You can be practical or totally ridiculous!
, Garden Tool, For Weak Hands
Jar Opener Bottle Opener
Women's Classic Elastic, Tulle Tutu
&
70th Birthday Party Planning Ideas for Men
If your 70th birthday party is for a man, you want to consider his interests. If he is a golfer, for instance, he would likely enjoy a golf tournament among his friends. Serve hamburgers and birthday cake after they play golf. Talk to your local golf professional to set this up appropriately.
You could also buy tickets for some of the guys to take the birthday boy to a special football game or concert.
Remember too, Karaoke parties are a hoot!   If your 70 year old and his buddies love Karaoke, your party is the easiest of all.  Give him his own karaoke system
(or a brand new microphone
), invite his buddies, prepare snacks, and sit back and enjoy the moments.
One of the best 70th birthday party themes for men is a roast — yep, a roast – like the ones you see on television sometimes. Men seem to really enjoy teasing each other – and to roast the one who is turning 70 requires the guests to provide the entertainment. Prepare for rollicking laughter and provide plenty of cold beer, deviled eggs, sandwiches and chips.  This is an easy party and great fun if you are looking for 70th birthday party planning ideas for Dad.
70th Birthday Gifts for Men
If your 70 year old dad is always pulling pranks, then certainly gag gifts for men will be very appropriate.  You might also consider sentimental gifts of photographs and letters filled with memories of your childhood with your dad.   As with all gift giving, consider his interests first.  Most seniors really do not want any more "stuff".   They do want family and friends, fun times, laughter, and good food.
Omaha Steaks The Best Seller
Took 70 Years to Become
It Took Me 70 Years To Look This Good
Don't forget — Your 70th Birthday Celebration Needs a Song!
And don't forget to find someone to lead the group in singing Happy Birthday! Make the event as memorable as possible for this special person in your life on the occasion of their 70th birthday!
Have a great 70th birthday celebration!